Summer 2022 Activities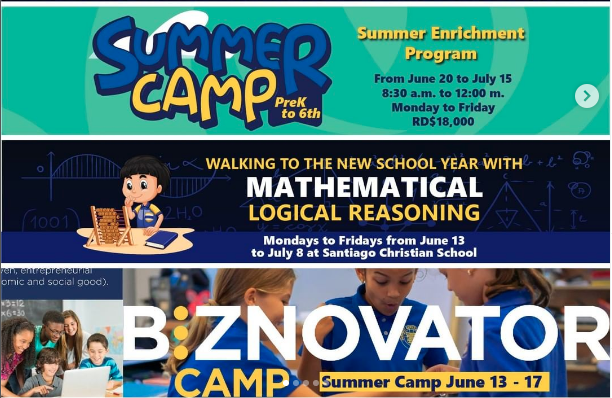 For more information regarding Summer Camp, please contact Alba Rodriguez at arodriguez@scs.edu.do.
For information regarding Mathematical Logical Reasoning, please contact Primitivo Acosta-Humanez at pacosta-humanez@scs.edu.do.
For details regarding Biznovator, please visit the Biznovator website and click here to register.
2022 Summer Information
2022-2023 School Supply Lists
The 2022-2023 school supply lists are below. Please find the grade level your child will be enrolled into for the 2022-2023 and click on the link to download the list. If you have questions, please contact the appropriate academic office. Students in grades PK through grade 6 should contact the Elementary Office and students in grade 7 and above should contact the Secondary Office.
2022 Summer Reading Letters
Summer 2022 reading letters are below. Students in grades 5 through 12 will be responsible for completing a summer reading assignment prior to returning to school in August. Please find your grade/class below and complete the appropriate assignment.
Summer 2022 Academic and Activity Packets
Summer academic and activity packets are included below. These packets are for elementary students only. The completion of these packets is not mandatory. However, we encourage your child to stay involved in some form of academic program in the summer to eliminate learning loss that can occur in the summer. Please contact Gladys Fermin (gfermin@scs.edu.do) in the elementary office if you have any questions.
SPRING 2022 ENROLLMENT
Parents, please see the information below regarding enrollment for the 2022-2023 school year. The requirements for enrollment are very similar to previous years. The major difference is that we will be using the FACTS Parent Portal to update demographic and tuition preferences. We will also be sending quotations, contracts, payment plans, and invoices digitally directly to parent emails. Parents will be digitally signing all documents. A one-page explanation of the process is available here (EN and ES).
Please see the help documents below to get started!
1. Create a FACTS Parent Portal account if you have not yet done so. To create an account and to login to FACTS, please go to www.factsmgt.com. Help documents for creating an account may be found here (EN and ES).
2. Access your family's enrollment packet(s) in the FACTS Parent Portal. Information about the enrollment packet, signing budgets, contracts, payment plans and invoices, and making payments may be found below.
English Walkthrough of Enrollment Process-here
Spanish Walkthrough of Enrollment Process-here
FACTS Parent Portal Information
Online Summer Resources
Family solutions to engage, excite, and challenge every child. (subscription required)

Free, online summer-learning destination with interactive STEM and literacy-building topics boosted by Maker experiments!

Fun summer resources to keep your child engaged academically throughout the summer months with activities in literacy, math, art, and science.

Courses and classes (2-12), SAT & ACT, and life skills

Math interactive tools for students.

Offers 24 different themes to explore. Books are suggested (to borrow or buy), activities that encourage learning through building, writing, tapping and swiping, are all at one's fingertips.

Activities and games to download and print at home.