Welcome, Parents!
We look forward to seeing your children on campus beginning August 23, 2021! Please click here for school supply lists and other information regarding the 2021-2022 school year!
FACTS Parent Portal Information
Parent Communication
September 27, 2021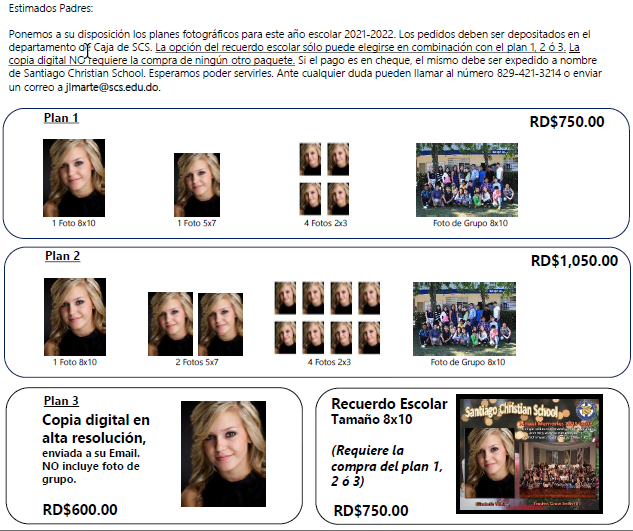 School photos will take place the week of October 4-8. Schedules will be provided to students prior to their photograph date. A link to the photo packages is available here. You may submit the form along with payment to the SCS cashier.
September 13, 2021
SCS invites you to attend a Parent Open House on Thursday, September 16 from 5:00-6:30PM. Teachers will be available in their classrooms to meet and greet parents. Representatives from SCS clubs, athletics, counseling services, special services, divisional offices, and advancement and admissions will have tables throughout campus and will be prepared to provide information and answer questions. The owners and employees of our new cafeteria, SnackZone, will be present to answer questions. Additionally, Snackzone will have food samples available for parents and will offer tours of the new cafeteria facilities.

Please remember this event is for our parents only so that we are able to spend as much time as possible getting to know you! We hope to see you next Thursday!

SCS los invita a asistir a "Casa Abierta para Padres", el jueves 16 de septiembre de 5:00 - 6:30PM. Los maestros estarán disponibles en sus aulas para conocer y saludar a los padres. Los representantes de los clubes SCS, atletismo, servicios de consejería, servicios especiales, oficinas divisionales, promoción y admisiones tendrán mesas en todo el campus y estarán preparados para proporcionar información y responder preguntas.

Los propietarios y empleados de nuestra nueva cafetería, SnackZone, estarán presentes para responder preguntas. Además, Snackzone tendrá muestras de alimentos disponibles para los padres y ofrecerá recorridos por las nuevas instalaciones de la cafetería.

¡Por favor recuerde que este evento es solo para padres de SCS para que podamos pasar el mayor tiempo posible conociéndonos! ¡Esperamos verlos el próximo jueves!
August 10, 2021
Dear SCS Parents,
We are excited that school will be starting in just two weeks! Below you will find important information about the start of school. Please read all of the information below about the start of the school year carefully.
In-Person Classes
SCS will begin the school year with in-person classes. Based on current local health data, the mandates of the Ministry of Education for the new school year, and the recommendations of international health organizations (such as the CDC, WHO, and APA), all classes will be held in person. The experience of the past year has made clear that in-person learning is better for students, families, and teachers. We are so happy to welcome our students back!
Important Dates
August 18 – Back-to-School meeting for parents via Zoom, 4:00 pm.
August 20 – New secondary student and parent orientation (in-person), 9:00-11:00 am.
August 23 – First day for all secondary students, 8:00 am.
August 23-24 – Individual teacher meetings for elementary families.
August 25 – First day for all elementary students, 8:00 am.
Elementary Parent-Teacher Meetings
Elementary (PreK - Grade 6) parents will receive an email from their child's teacher to schedule a time for the parent and student to meet with their new teacher on August 23 or 24.
Back-to-School Parent Meeting via Zoom
We will have a Zoom meeting on Wednesday, August 18, at 4:00 pm to share information with parents about the start of the school year, safety protocols, new digital platforms, and to hear an overview of our academic programs for the coming year. We will share the Zoom link with parents in advance, and a recording will be made available for those who cannot participate at that time.
Uniforms
School uniforms are for sale at the cashier in the reception area. Parents may come any day during business hours to purchase uniforms.
New Digital Platforms
We will be implementing several new digital platforms for families this year:
FACTS – student grades and attendance.
Pickup Patrol – health screening and student dismissal.
Snackzone.do – online orders for our new cafeteria.
We will be sharing information with parents about how to access and use the platforms in the coming weeks.
Welcome New Teachers!
We would like to welcome our new teaching staff to SCS. They began their orientation on July 26 and are eager to meet our students.
Please join us in giving them a warm welcome to the SCS community!