2023 Summer Information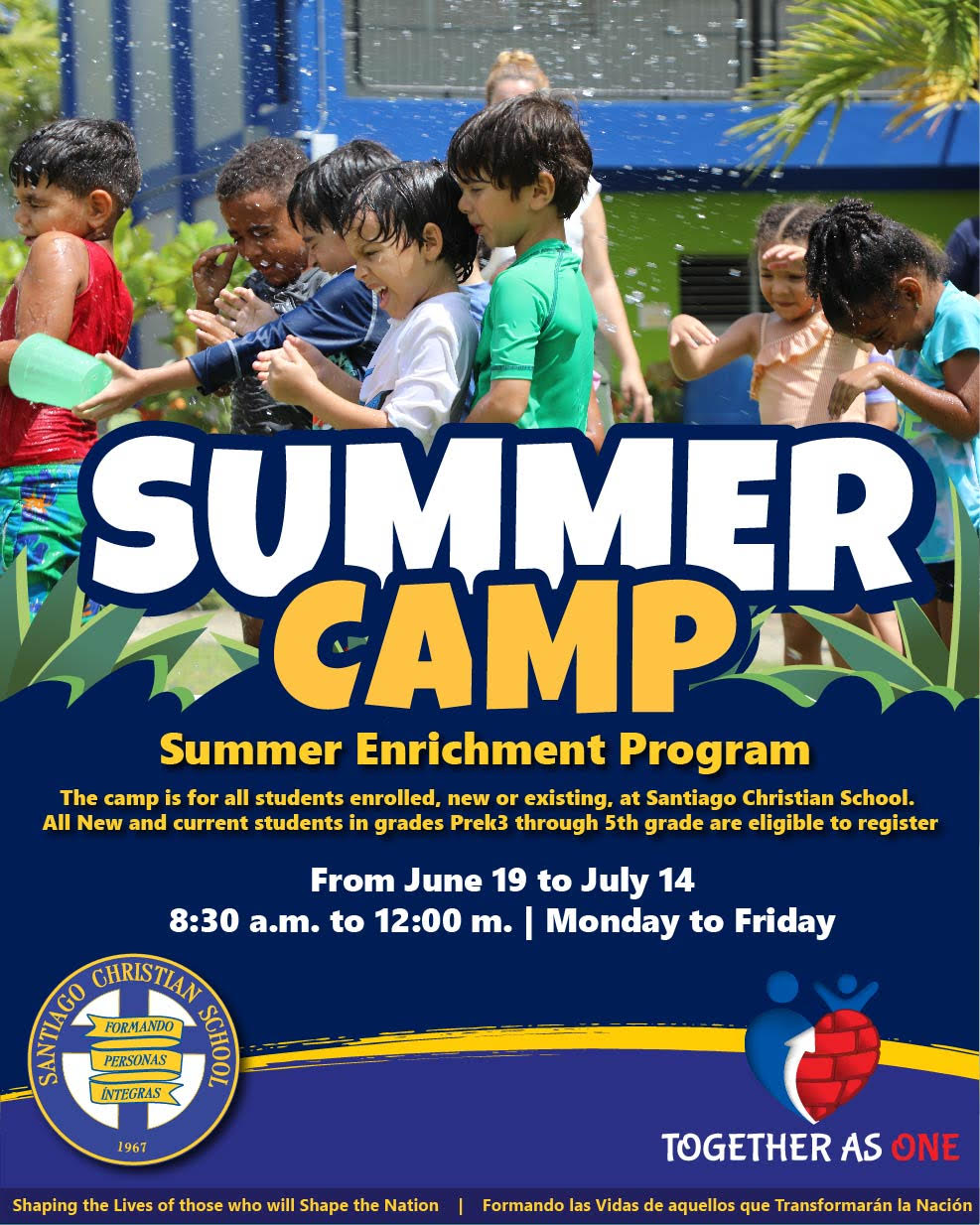 Estamos emocionados de anunciarles nuestro programa de verano que estará disponible para nuestras familias de estudiantes entres los niveles de Pre K3 - hasta 5to grado de primaria. El programa inicia el lunes, 19 de junio, 2023 hasta el viernes, 14 de julio.

El programa es por 4 semana de lunes a viernes entre las 8:30 hasta las 12:00 del mediodía. Nuestros estudiantes deben traer con ellos una botella de agua y una merienda diaria.

Los padres pueden dejar a sus niños a partir de las 8 de la mañana y recogerlos no más de las 12:30.

Nuestros estudiantes tendrán la oportunidad de reforzar sus necesidades académicas en sus habilidades del idioma inglés, matemáticas, lectura y fonética, y una sesión de apoyo socio-emocional a través de estas 4 semanas al igual que podrán disfrutar de actividades divertidas. El costo será de RD$20,000.

Pueden inscribirse en el área de caja del SCS.
2023-2024 School Supply Lists
The 2023-2024 school supply lists are below. Please find the grade level your child will be enrolled into for the 2023-2024 and click on the link to download the list. If you have questions, please contact the appropriate academic office. Students in grades PK through grade 6 should contact the Elementary Office and students in grade 7 and above should contact the Secondary Office.
2023 Summer Reading Letters
Summer 2023 reading letters are below. Students in grades 5 through 12 will be responsible for completing a summer reading assignment prior to returning to school in August. Please find your grade/class below and complete the appropriate assignment.
5th Grade Summer Reading - coming soon
6th Grade Summer Reading - coming soon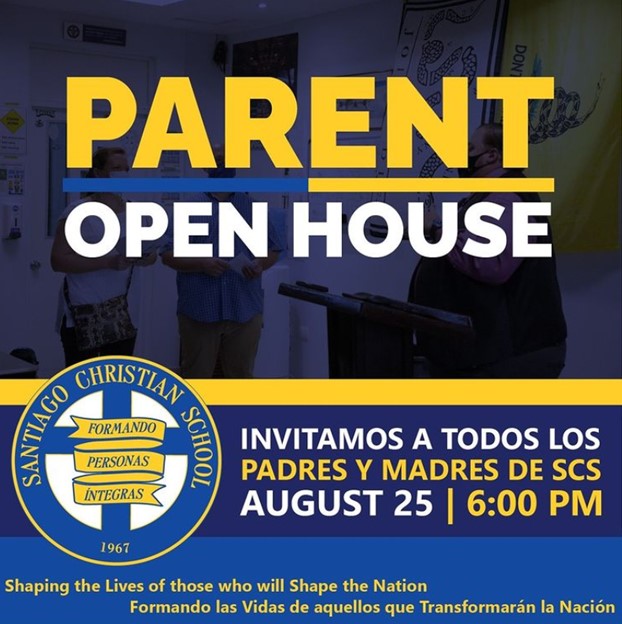 FACTS Family App
Parents, we encourage you to download the FACTS Family App from the Google Play Store or from the Apple Store. The application allows you to check your child's attendance, grades, and much more directly from your phone. You may access the Android app here and the Apple app here.
SPRING 2022 ENROLLMENT
Parents, please see the information below regarding enrollment for the 2022-2023 school year. The requirements for enrollment are very similar to previous years. The major difference is that we will be using the FACTS Parent Portal to update demographic and tuition preferences. We will also be sending quotations, contracts, payment plans, and invoices digitally directly to parent emails. Parents will be digitally signing all documents. A one-page explanation of the process is available here (EN and ES).
Please see the help documents below to get started!
1. Create a FACTS Parent Portal account if you have not yet done so. To create an account and to login to FACTS, please go to www.factsmgt.com. Help documents for creating an account may be found here (EN and ES).
2. Access your family's enrollment packet(s) in the FACTS Parent Portal. Information about the enrollment packet, signing budgets, contracts, payment plans and invoices, and making payments may be found below.
English Walkthrough of Enrollment Process-here
Spanish Walkthrough of Enrollment Process-here
FACTS Parent Portal Information
Parent Communication
August 01, 2022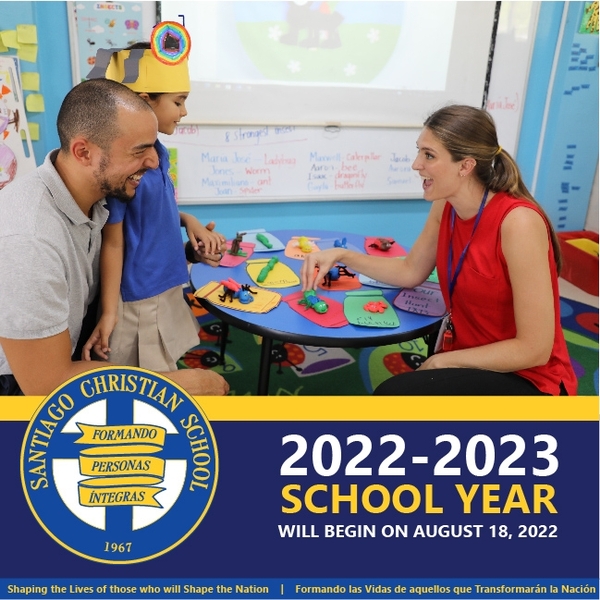 Dear Parents,
We are almost two months into our summer vacation, but our staff has been working hard throughout the summer to prepare our campus for the new school year. God has been faithful to provide the new teachers that we need for the coming year, and they have already begun their orientation and professional development. Now, we are making final preparations to welcome our families back to SCS for the new school year. Please read all the information below that contains important information for the start of the school year.
We pray that the Lord will bless you and your family in these final days of summer, and we look forward to being back together at SCS soon!
Important Dates and Information:
• Orientation Day – Wednesday, August 17
o Elementary School – Meet Your Teacher – All elementary students (PreK-6) will come to school with a parent to meet their teacher and drop off their school supplies. Each family will receive an email from their teacher with their assigned time.
o Secondary School – New Family Orientation – This orientation will be for new secondary students (grades 7-12) and their parents only. Returning secondary students will not participate in the orientation.
• First Day of Classes – Thursday, August 18 – Regular schedule for all students starting at 8:00am
• Parent Open House – Thursday, August 25 – 6:00pm
o All parents are invited to come to campus to meet their children's teachers between 6:00pm and 7:00pm. At 7:00pm there will be a program for all parents to provide important information about the school year.
• Every Wednesday 1:00pm Dismissal Time
o SCS is setting aside two hours every Wednesday for professional development to provide teachers with the professional training and time for planning and collaboration that is necessary to offer the best quality academic program possible. This will also provide students with additional time to complete assignments and catch up on missing work.
o Students will still have a lunch period during the school day and will be able to purchase food from the cafeteria.
o For parents who cannot pick up their children by 1:30, the school will continue to offer our elementary aftercare program for an additional fee, as we do every day after school.
o We will still have sports practices on Wednesdays from 3:30pm until 5:30pm (Girls Volleyball 6th to 12th grade, Boys Soccer 4th to 12th grade). It will be best for those students to go home and rest before practices. However, there will be supervision provided on campus at no additional cost through the sports program for students whose parents cannot pick them up and drop them off again for practice.
• Sports Practice Schedule – Sports practices will begin on Monday, August 22.
Mondays and Wednesdays: 3:30 PM to 5:30 PM
o Girls Volleyball: Grades 6-12
o Boys Soccer: Grades 4-12
Tuesdays and Thursdays: 3:30 PM to 5:30 PM
o Boys Basketball: Grades 4-12
o Girls Soccer: Grades 2-12
o Boys Soccer: Grades 2-3
July 31, 2022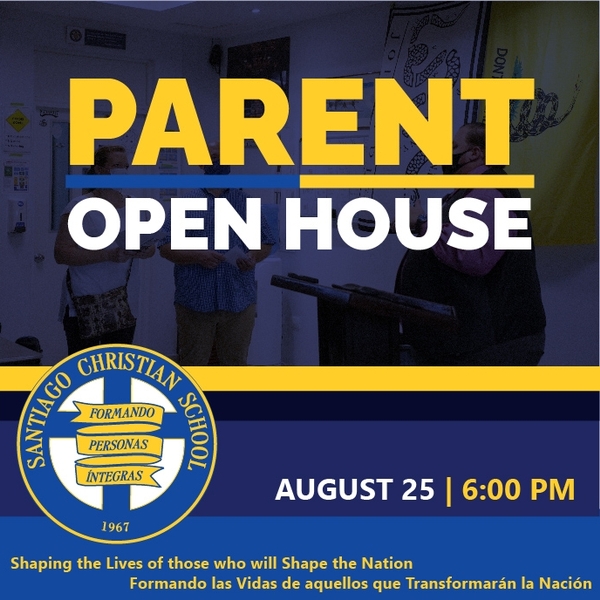 SCS invites you to attend a Parent Open House on Thursday, August from 6:00 PM. Teachers will be available in their classrooms to meet and greet parents. Representatives from SCS clubs, athletics, counseling services, special services, divisional offices, and advancement and admissions will have tables throughout campus and will be prepared to provide information and answer questions.
Please remember this event is for our parents only so that we are able to spend as much time as possible getting to know you! We hope to see you!
----------------------
SCS los invita a asistir a "Casa Abierta para Padres", el Jueves 25 de Agosto a las 6:00 PM. Los maestros estarán disponibles en sus aulas para conocer y saludar a los padres. Los representantes de los clubes SCS, atletismo, servicios de consejería, servicios especiales, oficinas divisionales, promoción y admisiones tendrán mesas en todo el campus y estarán preparados para proporcionar información y responder preguntas.
¡Por favor recuerde que este evento es solo para padres de SCS para que podamos pasar el mayor tiempo posible conociéndonos! !Esperamos verlos!
Online Summer Resources
Reflex is the most effective system for mastering basic facts in addition, subtraction, multiplication and division for grades 2+. Full of games that students love, Reflex takes students at every level and helps them quickly gain math fact fluency and confidence.

Lexia® Core5® Reading is an adaptive blended learning program that accelerates the development of literacy skills for students of all abilities, helping them make that critical shift from learning to read to reading to learn.

Family solutions to engage, excite, and challenge every child. (subscription required)

Fun summer resources to keep your child engaged academically throughout the summer months with activities in literacy, math, art, and science.

Courses and classes (2-12), SAT & ACT, and life skills

Offers 24 different themes to explore. Books are suggested (to borrow or buy), activities that encourage learning through building, writing, tapping and swiping, are all at one's fingertips.

Activities and games to download and print at home.