"The purpose of Santiago Christian School is to produce alumni who are personas íntegras. We desire alumni to display growing maturity as disciples of Jesus by increasingly reflecting him in character, wisdom and influence."
Alumni Spotlight:
January 21, 2021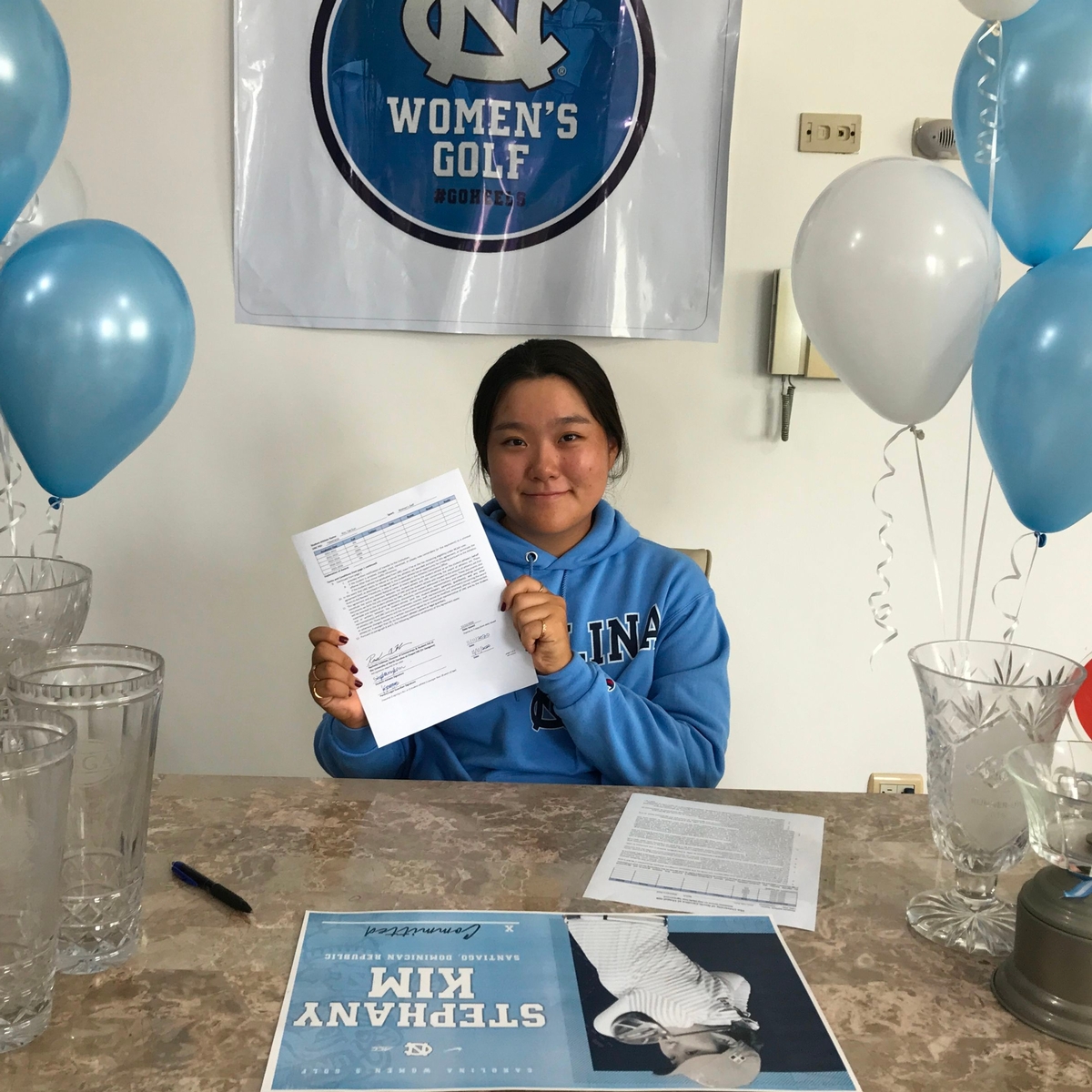 Stephany Kim is looking forward to graduating and starting her freshman year at the University of North Carolina where she received a scholarship to play NCAA Division I Women's Golf and study Business Administration
Stephany has been attending SCS since Pre-K 3 and has seen many changes over the years. Growing up alongside her classmates, the members of the SCS community are like family to her. Over the years, the faculty at SCS have been a huge source of encouragement and support to her, and their presence in her life has shaped her into the person she is today. When describing what makes the faculty at SCS unique, she said "my teachers always encouraged me to look for Jesus in every situation, even when times were tough. They always listened to me, cared for me, and encouraged me to have hope!"
Stephany is an excellent student and leader among her peers. She has been a member of NHS for 3 years and this is her second year serving as Vice President, a responsibility she takes very seriously. Being a person of integrity is really important to her and one of the most important lessons she learned throughout her time at SCS. She says, "the Honor Code has defined who I am as a person of integrity. With the help and support of teachers and staff, I feel very prepared for my future."
As she looks ahead to her life as a proud SCS alum, she wants to encourage others to invest in the SCS education. The world-class English-language training, high caliber teaching staff, and international accreditation that SCS provides have equipped her to confidently take the next step into a future of academic excellence and professional leadership.
If you are considering an investment in SCS, Stephany shared that "it's the generosity of people like you that inspires me and my classmates to be generous with our gifts and resources."
January 01, 2021
Carlos J. Ziegenhirt, Class of 1994, CEO of the local CCD – Contact Center Dominicana, in Domyn Mall, Santiago, which employs more than 300 people. Carlos and his wife Carolina Balbuena, have two children in the SCS, Mayer and Martha. They are avid proponents of a high quality English-speaking Christian education in the formative years of their children's lives.
Carlos's formula for success in business is this: "Like what you do and enjoy it and have a goal to create." In their situation, Carlos and Carolina work together and love what they do. They are fulfilling their goal of creating many jobs. He has also been greatly influenced by his uncle, Dr. Roberto Diaz, and his 'big picture' thinking and dreaming of the Dominican Republic of the future. His friendships from high school continue to day with Luis Arocha, Gerson Perez, and Hemky Madera. "I have had the privilege in my life to have attended many great and distinguished academies in the United States from Forman to Andover, but I was lucky enough to graduate from SCS because that is where I met Jesus. Wonderful teachers from Mercer to Hagland, Gardner to Walters and others who were all instruments of Christ which in one way or another molded my faith into what it is today. SCS continues today to be an industry of Christian citizens with a sense of duty, filled with both purpose and the Holy Spirit, and with a hunger to improve their world."
December 01, 2020
Carolina Diplán Flores graduated in 2005 and received her Bachelor's Degree in Marketing with a minor in Advertising at International Academy of Design in Orlando, Florida. She is the founder of a nonprofit organization called Home Of Change (www.homeofchange.org). She said, "Our mission is to build and support safe homes for victims of sex trafficking. We currently support two safe homes worldwide. Our headquarters, originally in Orlando, FL are now in the Netherlands." At SCS, she was involved in everything from student council and National Honor Society to Bible studies and volunteer work. "It taught me so many skills I still use to this day. Academically, I believe SCS provided the foundation I needed to excel in college. Spiritually, the teachers and leaders were a reflection of Christ and that planted a seed in my heart that has blossomed into the strong faith and convictions I live by now. For that, I am forever grateful."