Summer 2022 Activities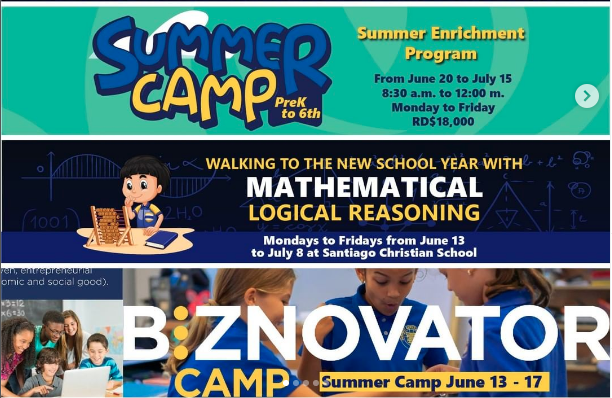 For more information regarding Summer Camp, please contact Alba Rodriguez at arodriguez@scs.edu.do.
For information regarding Mathematical Logical Reasoning, please contact Primitivo Acosta-Humanez at pacosta-humanez@scs.edu.do.
For details regarding Biznovator, please visit the Biznovator website and click here to register.
2022 Summer Information
2022-2023 School Supply Lists
The 2022-2023 school supply lists are below. Please find the grade level your child will be enrolled into for the 2022-2023 and click on the link to download the list. If you have questions, please contact the appropriate academic office. Students in grades PK through grade 6 should contact the Elementary Office and students in grade 7 and above should contact the Secondary Office.
2022 Summer Reading Letters
Summer 2022 reading letters are below. Students in grades 5 through 12 will be responsible for completing a summer reading assignment prior to returning to school in August. Please find your grade/class below and complete the appropriate assignment.
Summer 2022 Academic and Activity Packets
Summer academic and activity packets are included below. These packets are for elementary students only. The completion of these packets is not mandatory. However, we encourage your child to stay involved in some form of academic program in the summer to eliminate learning loss that can occur in the summer. Please contact Gladys Fermin (gfermin@scs.edu.do) in the elementary office if you have any questions.
SPRING 2022 ENROLLMENT
Parents, please see the information below regarding enrollment for the 2022-2023 school year. The requirements for enrollment are very similar to previous years. The major difference is that we will be using the FACTS Parent Portal to update demographic and tuition preferences. We will also be sending quotations, contracts, payment plans, and invoices digitally directly to parent emails. Parents will be digitally signing all documents. A one-page explanation of the process is available here (EN and ES).
Please see the help documents below to get started!
1. Create a FACTS Parent Portal account if you have not yet done so. To create an account and to login to FACTS, please go to www.factsmgt.com. Help documents for creating an account may be found here (EN and ES).
2. Access your family's enrollment packet(s) in the FACTS Parent Portal. Information about the enrollment packet, signing budgets, contracts, payment plans and invoices, and making payments may be found below.
English Walkthrough of Enrollment Process-here
Spanish Walkthrough of Enrollment Process-here
FACTS Parent Portal Information
Parent Communication
Posts Tagged "Meetings"
August 10, 2021
Dear SCS Parents,
We are excited that school will be starting in just two weeks! Below you will find important information about the start of school. Please read all of the information below about the start of the school year carefully.
In-Person Classes
SCS will begin the school year with in-person classes. Based on current local health data, the mandates of the Ministry of Education for the new school year, and the recommendations of international health organizations (such as the CDC, WHO, and APA), all classes will be held in person. The experience of the past year has made clear that in-person learning is better for students, families, and teachers. We are so happy to welcome our students back!
Important Dates
August 18 – Back-to-School meeting for parents via Zoom, 4:00 pm.
August 20 – New secondary student and parent orientation (in-person), 9:00-11:00 am.
August 23 – First day for all secondary students, 8:00 am.
August 23-24 – Individual teacher meetings for elementary families.
August 25 – First day for all elementary students, 8:00 am.
Elementary Parent-Teacher Meetings
Elementary (PreK - Grade 6) parents will receive an email from their child's teacher to schedule a time for the parent and student to meet with their new teacher on August 23 or 24.
Back-to-School Parent Meeting via Zoom
We will have a Zoom meeting on Wednesday, August 18, at 4:00 pm to share information with parents about the start of the school year, safety protocols, new digital platforms, and to hear an overview of our academic programs for the coming year. We will share the Zoom link with parents in advance, and a recording will be made available for those who cannot participate at that time.
Uniforms
School uniforms are for sale at the cashier in the reception area. Parents may come any day during business hours to purchase uniforms.
New Digital Platforms
We will be implementing several new digital platforms for families this year:
FACTS – student grades and attendance.
Pickup Patrol – health screening and student dismissal.
Snackzone.do – online orders for our new cafeteria.
We will be sharing information with parents about how to access and use the platforms in the coming weeks.
Welcome New Teachers!
We would like to welcome our new teaching staff to SCS. They began their orientation on July 26 and are eager to meet our students.
Please join us in giving them a warm welcome to the SCS community!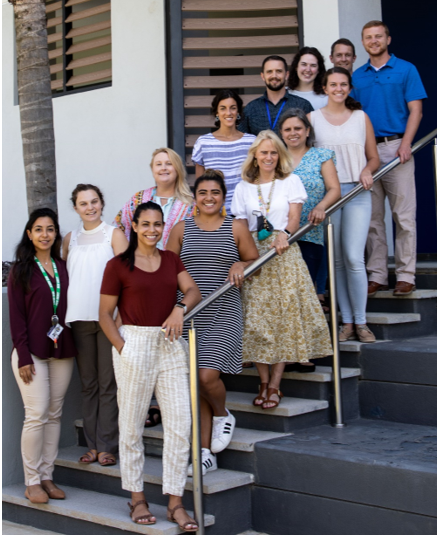 Online Summer Resources
Family solutions to engage, excite, and challenge every child. (subscription required)

Free, online summer-learning destination with interactive STEM and literacy-building topics boosted by Maker experiments!

Fun summer resources to keep your child engaged academically throughout the summer months with activities in literacy, math, art, and science.

Courses and classes (2-12), SAT & ACT, and life skills

Math interactive tools for students.

Offers 24 different themes to explore. Books are suggested (to borrow or buy), activities that encourage learning through building, writing, tapping and swiping, are all at one's fingertips.

Activities and games to download and print at home.